Let us do the dirty work! Our technicians are certified and trained in professional carpet cleaning. Brad's Cleaners can help bring your carpet back to life, restore its beauty, and help to remove stubborn stains. We do the job right the first time and stand behind our work.
Here's what you need to know about our carpet cleaning service that we offer to Greenville and surrounding West Michigan areas.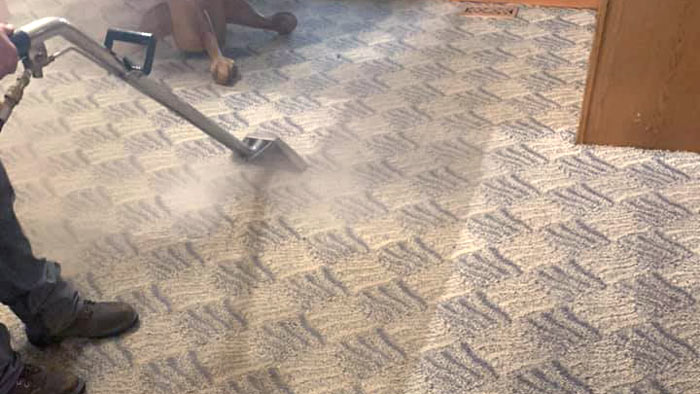 What To Expect During Professional Carpet Cleaning
When it comes to
, there is more to know than you might think. There are many different solutions, spotters, and treatments our technicians use to ensure the best possible cleaning results.
Our Team Will Take the Following Steps While Carpet Cleaning:
Move and place your furniture on special protector blocks to prevent rust and dye transfers.
Dry vacuum using our powerful truck-mounted units to remove dry particulate matter and dirt.
Pre-treat the entire area with a solution to break down and suspend soils.
Spot treat any areas that need extra attention.
Use our powerful truck-mounted extraction units with a special fiber rinse to remove soil and leave your carpets fresh and clean.
Groom carpet fibers to ensure optimum appearance and drying.
Our technicians are trained and certified in hot water extraction cleaning and have the knowledge and experience to
and help return your carpets to their best appearance.
Furniture and Upholstery Cleaning
While it may not look like it, your furniture can trap a lot of dirt and allergens over time. This can dull the color of your upholstery and make your furniture look old and soiled. The good news is that we offer professional upholstery cleaning services for homes and businesses. That way, you can revive the look of your furniture and extend its life.
We clean all different types of fabric, including cotton, linen, polyester, microfiber, wool, and leather. Although the type of fabric will determine how long your furniture needs to dry after hot water extraction cleaning.
Our upholstery cleaning technicians use fabric-friendly cleaners to ensure you get the best results every time.
Full-Service Rug Cleaning
Area rugs, oriental rugs, runners, and more can be brought to our facility to be professionally cleaned and deodorized. Our technicians will use a combination of methods to remove dirt and stains from one or both sides of your rugs. Rugs that receive a lot of foot traffic are especially good candidates for our hot water extraction cleaning. Pickup and delivery are available in most areas.
Why You Should Hire Brad's Cleaners
Regular vacuuming will help keep your carpet flooring in good condition. But nothing beats the deep cleaning you get from a professional company like Brad's Cleaners. During our visit, we will help eliminate the odors and germs that can hide in your carpet. The result will be a plush, rejuvenated carpet that looks and feels like new.
Our professional carpet cleaners use special cleaning agents that are only available for professional use in our industry. These agents will help protect your carpet from future stains and spills, as well as wear and tear.
Brad's Cleaners also has the equipment needed to get the job done right. No need to visit a local hardware store to rent heavy machines and transport them back home. A professional with a truck-mounted machine will come right to your door and far exceed the results you can get from portable rental units.
Our professional carpet cleaners will save you time and deliver professional results.
Call Brad's Cleaners for Prefessional Carpet Cleaning
Brad's Cleaners is a restoration and carpet cleaning company that's located in Greenville and serves surrounding West Michigan communities. To schedule a time for professional carpet cleaning, please call Brad's Cleaners at (616) 754-0389. You may also fill out our online contact form and someone from our team will reach out to you soon.