We love hearing from our customers! Here are a few testimonials from people we've helped over the years.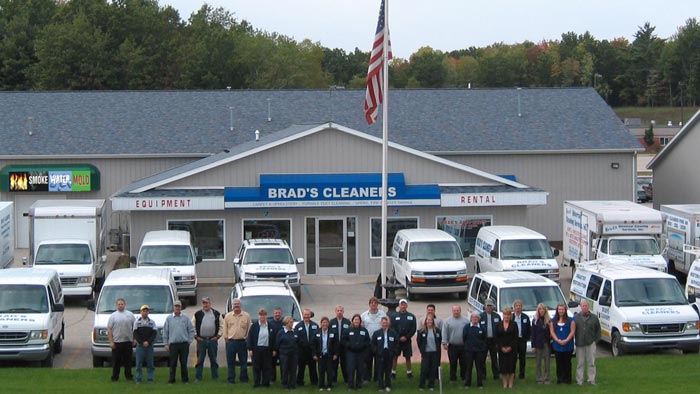 Joshua
Outstanding customer service. They stand by their word, and have been as good as it gets to work with. They couldn't have made it easier or a better experience. They're passionate about doing a great job. I'm super thankful for them...
Matthew
Brad's has cleaned my carpet, my ducts, and assisted me with a small water damage in my home. Not only were the people professional and courteous, they were reasonable and fair. I would not hesitate to call Brad's again!!
Clark
Thank you Terry and Tyler for the outstanding job! Happy, courteous, clean, and very helpful! I appreciate your work and will be calling you guys in the future.
Rene
Bravo to Tyler and Mitch with Brad's Cleaners. Fast, courteous, and the carpet looks great! Thanks guys! Super happy!
Tammy
When I had a small house fire, Brad came in and made me feel at ease. I was panicked, scared, and very emotional. The cleaning crew that came in were amazing! They got a bathroom so clean you would never have known there was a fire. I thought we were going to have to replace all of our cabinets and the entire bathroom due to so much smoke and soot damage, but they did such a thorough job that we didn't have to. Thank you Brad, your team is the BEST!!!
Rhonda
Brad's is a very talented, trustworthy cleaning service. My mother-in-law had them come to her rescue when an upholstered sofa had a big, big mess on it. They came that afternoon and cleaned it so it was good as new. This was a couple years ago and she still raves about her excellent experience.
Randy
They did exactly what they said! Great price with quality workmanship.
Paul
Good company and good people.
Cheryl
Brad's is a great business. Great at carpet cleaning and power washing homes.
Melissa
Great job Bradley and Mike for cleaning my air duct. Your professionalism was amazing!!
Kayla
They are very professional and polite! The only company I will call for my carpets and air ducts. Plus, I plan to look into the other services they offer too because I am so pleased with the job that they have done at my home and my work.
Sharon
Brad came to our rescue about three weeks ago for a water issue. They arrived quickly, worked tirelessly, and left us with many drying fans. They also called to check several times during the next three days to see how things were going. Thank goodness we have them in Greenville!
Gail
I had my siding power washed and was amazed that the dirt and stains came off. Thanks Brad's Cleaners and thank you to the two young gentlemen that made it happen. It looks so much better.
Roxanne
The same two guys have been cleaning my carpets for about 10 years. They never fail to do an amazing job. I highly recommend Brad's Cleaners. 😃
Sarah
We've had a great experience with Brad's Cleaners this past week. They replied quickly, were professional, and went the extra mile to help our situation. I was very impressed with the care shown. Thank you!
Marilynn
My carpets are older but they always look amazing when cleaned by Brad's Cleaners. These guys are so nice, efficient, and willing to go the extra mile. Thanks so much!
Kayce
We had a drinking fountain break over the weekend in my dental office, I called Brad's and they were here within the hour. They did an absolutely wonderful job, I could not have asked for better customer service. Every employee that I came into contact with was absolutely wonderful and very friendly! Thanks again for a job WELL DONE!!!
Alexis
Such an awesome experience with these guys! The men who came to clean the carpets were very friendly and polite. My carpets look new again. Thanks so much for the wonderful work!! I'd call these guys again any time!!
Karyn
Terry and Dennis were wonderful! They did an amazing job on our carpet!!!! A HUGE THANK YOU to them!
Jennifer
I've used Brad's for all our rental property and primary residences. They always provide the highest quality customer service and do an outstanding job!
Corby
Brad's cleaned up some problems under the house, not a pleasant place to work. They were very professional, did a great job, and helped us get our house back in order. They definitely went above and beyond.
Jennifer
I've used Brad's for all our rental property and primary residences. They always provide the highest quality customer service and do an outstanding job!
Jessica
I am so HAPPY! Carpets and furniture look awesome! I highly recommend Brad's cleaners! Terry was very professional and polite!
Diane
Your teams are so good at what they do, above and beyond!
William
Brad's Cleaners was referred to me by Pioneer Mutual due to my water heater damage. The workers were very professional and courteous. When the dust cleared, everything was done and everything was great. Special thanks to Ed and his crew and Karen the office manager. Again thank you. I would highly recommend this company to all.
Austin
Feb 4, 2017 my world was hit hard when our home burnt to the ground. My first call was to Brad. I was a hot mess of emotions, as I stood there watching everything burn. Brad dropped everything and was there immediately. His advice, compassion, and take-charge initiative was so refreshing and spirit calming. He is more than a professional, he is a man who truly cares and his company follows suit.
Paul
A couple weeks ago there was a potentially dangerous situation at the home where our daughter was watching 6 of our grand-children. As 'luck' would have it, a crew from Brad's Cleaners was very near the scene. They were there first, dropped what they were doing and helped usher my family to safety.
We cannot put into words how grateful we are for the care that was shown that day. They are heroes and we appreciate them. We would not only trust them with a job, but with our 'Home.'
P.S. Brad's mom rocks.