Brad's Cleaners is an (616) 754-0389 to get in touch with our cleaning specialists.
that's located in Greenville and proud to serve West Michigan. Click on the links below to learn more about a specific service or call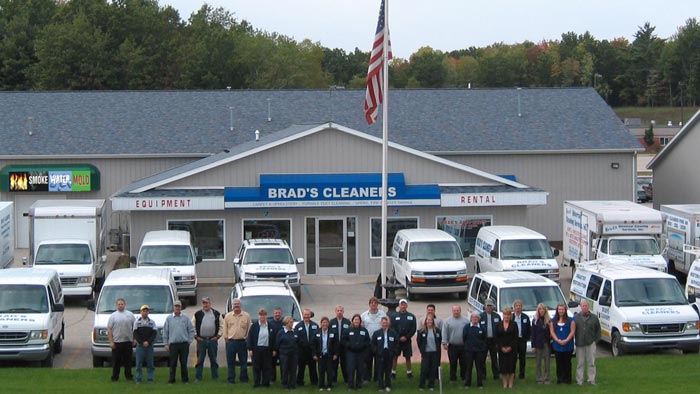 Emergency Restoration Services
We're available 24 hours a day, 365 days a year to take your call. Every minute that passes is precious when it comes to mitigating damage to your property. That's why we always try to be at your door within one hour of your call.
---
It takes less than 48 hours for mold to start growing after water infiltration. The good news is that we're available 24 hours a day, 365 days a year. Call Brad's Cleaners right away for emergency water damage restoration.
---
Our team has the proper equipment, knowledge, and experience to make sure everyone stays safe during smoke damage restoration. You can also trust us to treat your property and belongings with care and respect.
---
We offer 24/7 emergency fire damage restoration services. As such, our team has the knowledge to get your home secure, deodorized, and safe. We specialize in odor removal, content cleaning and restoration, and structural cleaning and restoration.
---
Mold is hazardous to humans and pets, which is why you'll need to call a mold remediation company like Brad's Cleaners. We have over 40 years of experience in emergency restoration and cleaning.
---
Cleaning Services
We offer a full range of cleaning services for homes, businesses, and industrial facilities. Our goal is to always create a safe and clean environment, whether you're interested in
or other services.
---
Let us do the dirty work! Our technicians are certified and trained in professional carpet cleaning. Brad's Cleaners can help bring your carpet back to life, restore its beauty, and remove stubborn stains. We do the job right the first time and stand behind our work.
---
Are your ducts full of dust, dirt, and other debris? If so, it may be time to call Brad's Cleaners to schedule a professional duct cleaning. We've been offering a full range of restoration and cleaning services for over 40 years.
---
Do you have something that needs a professional cleaning? Drop it off at Brad's Cleaners during our regular business hours. No appointment necessary! We accept rugs, mattresses, chairs, couches, vehicles, and more. You name it, we clean it!
---
We offer a full range of commercial cleaning and restoration services. Whether you need to repair water damage or clean your office carpets, you can count on our over 40 years of experience.
---
It's absolutely essential that you keep your facility clean for the health and safety of your workers. Maintaining a clean environment will also help protect your industrial equipment and automation systems.
---