Mold and mildew will grow in as little as 48 hours of water infiltration. This means that you have a limited window of time to prevent further mold growth. Mold is hazardous to humans and pets, which is why you'll need to call a mold remediation company like Brad's Cleaners. We have over 40 years of experience in emergency restoration and cleaning.
Here's what you can expect during our mold remediation process.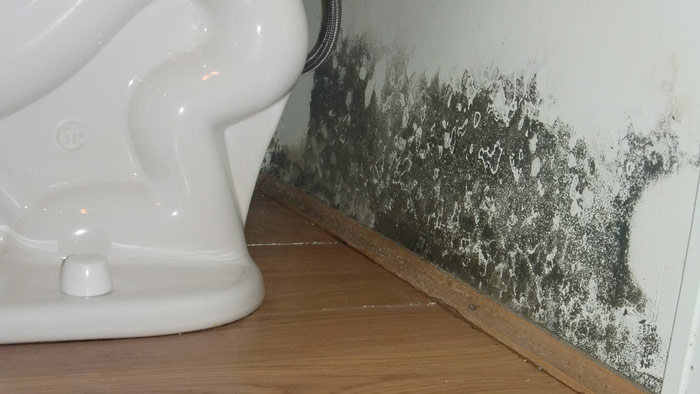 Mold Inspection and Testing
are some of the first steps in our process. There are millions of different mold spores. Some are highly dangerous and some are not. The only way to know exactly what is growing in your home is to have it tested and sent to be analyzed at the EMSL laboratory. From there, we'll be able to determine what type of mold we're dealing with and how to restore your structure to a pre-loss condition or better.
Water Leak Detection and Repairs
Mold requires moisture to grow and thrive. There are countless ways for moisture to find its way into your home. Determining the source of the water intrusion is an important step in a proper mold remediation. Using state-of-the-art moisture meters and infrared cameras, our technicians will conduct a thorough inspection to help locate the problem.
Mold Containment
Stopping the spread of mold is of the utmost importance. We will use a variety of methods to contain the spores and stop cross contamination in your home or office. A simple method to reduce the risk of cross contamination is shutting down your furnace or air handling system in the affected areas while the contaminated materials are being removed.
Air Filtration
Mold spores are microscopic and airborne. Our goal is to capture these spores and prevent the mold from spreading further. Our team uses special equipment, such as HEPA vacuums and "air scrubbers" to create optimal conditions for mold remediation.
Mold Removal
How we handle this stage in the process will depend on the amount of mold present in your home or commercial building. Our mold removal process will also depend on the types of materials affected. For example, we may need to remove porous materials like carpeting and drywall that have a lot of mold growth. We may also use antifungal and antimicrobial treatments to remove mold and prevent new colony growth.
Cleaning Mold from Personal Belongings
You can trust our team to always handle your personal belongings with care and respect. We understand how devastating it can be to lose your items to mold and mildew. That's why we do everything in our power to restore any personal items that are salvageable. Our mold cleaning specialists will clean, sanitize, and deodorize your belongings so they're safe once again.
Restoration
Each mold restoration job is different. For example, you may need major repairs if we have to reconstruct rooms in your house or commercial building. It all depends on the level of mold and mildew damage. If caught early, you may only need minor restoration like new drywall or carpeting. We will guide you through every step in our process so you always know what to expect.
Call Brad's Cleaners Today
Brad's Cleaners is a 24/7 emergency mold remediation company that's located in Greenville and serves surrounding West Michigan areas. Each hour is crucial so don't wait to call our mold restoration specialists. We'll answer your call 24 hours a day, 365 days a year. Call (616) 754-0389 and we usually try to be at your door within an hour.