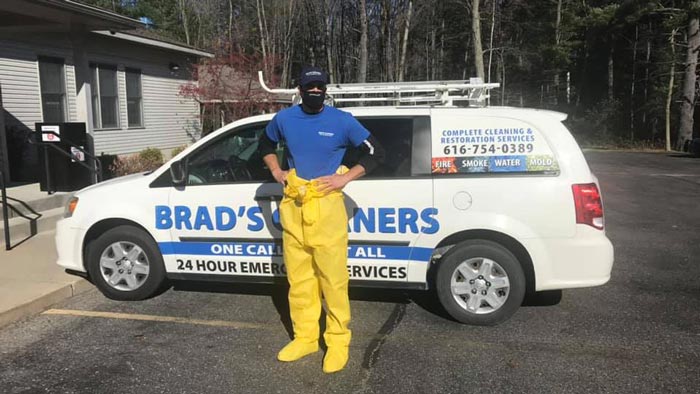 What do I need to do before cleaning technicians arrive to clean my carpets?
We move and reset most furniture for you. We do ask that small items, such as table lamps and breakables, be removed from tops of furniture in areas we are cleaning so as to allow for moving and resetting items. Pick up small items on the floors of areas to be cleaned such as toys, trash cans, rugs, and plants.
Although pre-vacuuming the area is not required, it is recommended.
Do I have to move everything out of areas I am having carpets cleaned in?
No. Our trained technicians will move most furniture that can be safely moved free of charge prior to cleaning and reset on special blocks and/or tabs after cleaning. These should be left under furniture until the carpet is completely dry to prevent color transfer, staining, or rust.
Some furniture that our technicians can not move include beds, large dressers, china cabinets, hutches, entertainment cabinets, and electronics. Our technicians will thoroughly clean around and as far under as possible on items that can not be moved.
What method do you use for cleaning carpet?
Brad's Cleaners uses truck-mounted hot water extraction. This method safely removes the toughest spots and deep soils. Our powerful suction not only removes dirt, allergens, and contaminants—it also removes 95% of the moisture. Our cleaning method is recommended by most carpet manufacturers.
How long will it take my carpets to dry after cleaning?
Drying time will vary depending on the air circulation, air temperature, humidity, and other factors. Your carpet will be damp to the touch when we leave, as our equipment removes 95% of moisture from the carpets. Drying times on average range from 4 to 8 hours. Setting up household fans will aid in drying.
Do you have a 100% guarantee on pet stains and odors?
Unfortunately, there is no way to completely guarantee 100% removal of any type. Pet urine and any liquid spills may not only soak through the carpet and into the pad, they can even soak into the sub-floor below, trapping the urine and smell in the sub-floor. In severe cases, the sub-floor itself may need to be cleaned, treated, and sealed to get rid of the odor.
Our technicians are amazing and have great results removing pet stains, soils, and odors from carpets everyday, but we can not 100% guarantee results. The quicker urine and other spills are cleaned, the better the chances of complete removal.
Why does a carpet stain keep coming back?
Carpet stains can sometimes come back after they appear to be gone due to a number of reasons. Most of the time, the stain reappears due to the amount of whatever spilled on the carpet. The initial spill goes through the carpet and soaks into the pad and dries.
When the carpet is cleaned, the spot is removed. As the carpet dries, wicking occurs. The initial spill that was trapped in the pad and sub-floor is activated by the moisture of cleaning the carpet. As the carpet dries, the initial spill wicks up from the pad back up to the surface, making the stain reappear.
Reappearing of spots and stains can also be caused from previous home carpet cleaning products or spotters used on the carpet but not fully rinsed out and are still in the carpet pad.
Why do your prices vary from other carpet cleaners?
When comparing carpet cleaning companies, be sure to ask a lot of questions. We at Brad's Cleaners include many things others may charge additional for. We move and reset most furniture at no additional cost. Our quoted price includes spot treating and normal deodorizing. There are no hidden fees or additional charges—just quality service.
Our technicians are uniformed, trained, and insured professionals. Brad's Cleaners has been serving mid-Michigan for over 40 years and we stand behind our work.
Emergency Restoration FAQ
What should I do if I have water in my basement?
If you know the cause, be sure to take steps to stop the water from coming in. Avoid entering areas with standing water as they can be dangerous. Secure area from children and pets. The faster the water and excess moisture are removed from your home, the less damage will occur.
It is important to be sure all areas are completely dried and treated to ensure you do not have expensive moisture and mold-related problems down the road. Even though the area may look and feel dry, it may not be.
Moisture hides behind walls, in insulation, under flooring, and in many unseen areas. Brad's Cleaners has the equipment, knowledge, and experience to not only remove standing water and dry the area but to track down, dry, and treat areas of hidden moisture.
We are trained and certified in water damage restoration and have worked with the area's homeowners and insurance companies for over 40 years. We respond quickly and can help you through the entire process to make sure your home is returned to pre-loss condition.
Can you work with my insurance company on my damage claim?
Yes, Brad's Cleaners works with the area's insurance companies regularly. We can work directly with your insurance while keeping you informed of the progress, making your claim go as quickly and easy as possible.
We use the Xactimate billing system, which is the restoration industry's most accurate property damage software and is used by most insurance professionals. This allows us to communicate with your insurance company and provide them with detailed reports, inventory lists, estimates, billing, and other items they may need to process your claim.
Can smoke and soot damage items be cleaned?
Yes, many smoke and soot-damaged items can be cleaned. Care needs to be taken to determine which items will clean up well and which items will not. It is also important to not set the smoke and soot into items, walls, and other surfaces by using improper techniques or cleaning products.
Brad's Cleaners can determine which items will most likely clean up and the best cleaning process for these items. This ensures the best results and helps keep costs down.
Brad's Cleaners is trained and certified in fire restoration and odor control. We are licensed, bonded, insured, and ready to help you get your home and contents back to pre-loss condition. We are available 24/7 and are only a phone call away.
How do I secure my property after a major fire loss?
Don't go back into your home unless a fire official has deemed it safe to do so. When safe to enter, be sure to wear personal protective wear. Fires can cause a variety of unhealthy conditions that should not be breathed in or absorbed through your skin.
If you are able to gather your important paperwork, a few things to consider are: valuables and driver's licenses, birth certificates, medical records, and passports.
You should notify any other family members that reside there, as well as your insurance company. Contacting your local police department to let them know what happened and that you will not be at the property is also a good idea.
The property should be secured by boarding up any broken windows, doorways, or other areas to prevent unwanted access to the property. Brad's Cleaners offers emergency board-up services along with a complete scope of fire, smoke, and water damage restoration services.
We are available 24/7 and always just a phone call away.
How do I know if my home has a dangerous mold problem?
Many times you can see visible mold and know it is an issue. Other times, it can be hidden but you think there may be a problem.
If you suspect you have mold and want to know what kind of mold you have and if it is dangerous, it may be beneficial to have a mold test performed. Brad's Cleaners can set up a test.
A sample of the air is taken from different locations around your home. These samples are sent into a laboratory specializing in mold tests. Once the sample is processed a mold report is issued telling the type of mold, its origin, levels contained, health issues it may cause, and other beneficial information.
If you would like to set up a test or have more questions, call Brad's Cleaners today.
What causes black soot on my walls and ceilings?
Soot comes from incomplete combustion of a carbon-based material. Any material that can burn can produce soot, including natural gas, LP, wood, oil, candle wax, gasoline, diesel fuel, and tobacco smoke.
If you notice black soot but have not had a noticeable fire, it could be caused from candle burning, kerosene heater use, or cigarette smoke. Another possible cause is a cracked heat exchanger on your furnace. This can cause black soot and webbing to be blown throughout your home as the furnace runs. You may not notice the soot at first as it can be a gradual buildup over time.
If you suspect this may be a problem with your heating system, you should immediately have a HVAC professional examine your furnace. In addition to soot, a cracked heat exchanger can leak carbon monoxide and other gases into your home. You should always have a carbon monoxide detector located near your furnace/utility area to alert you to any leaks.
Brad's Cleaners is experienced and knowledgeable in
. Whether it is an insurance claim due to a cracked heat exchanger on your furnace or a self-pay due to cigarette smoke, Brad's will meet with you, explain the process, give you an estimate, and answer any questions you may have. We are just a phone call away 24/7.
Should I start cleaning items after a fire or smoke damage?
It can be very tempting to start immediately cleaning things after a
. It is normal to want to do something to get your home back to normal. Caution should be used though, as using household cleaning products and attempting to clean things the wrong way can actually do more damage than good.
Soot and smoke can be set into items and surfaces, making it difficult or impossible to clean. Gloves should be worn when handling anything with soot damage or residue. Not only can the soot be dangerous to your body but the oils on your skin can react with the soot residue and make it harder (if not impossible) to remove from the item or surface. Trying to clean certain painted surfaces can cause the soot/smoke to smear and set in, making it impossible to remove.
It is best to wait for a trained restoration professional to arrive. Brad's Cleaners has been trained and certified in restoration and cleaning. We have the equipment, products, and knowledge to safely clean and restore your home and its contents. We can meet with you, explain the process, and answer any questions you may have.
I burnt food the other night and I can't get rid of the odor, do I need professional help?
Possibly. It depends on how badly the food was burnt. Slightly overcooked food odors should "air out" in a few hours or a couple days. Severely overcooked food is generally referred to as a protein fire, which is a result of overheating a solid mass of protein to the point of turning it into a vapor. These do not air out in days or sometimes even months.
We look at fire damage in several ways: paper/wood, metal, plastic, and protein. Each type of fire will leave its own thumbprint of damage. Protein fires will usually not leave a lot of black sooty residue, but they have a very high odor content associated with them.
It can be deceiving how big a problem protein fires can be because you do not see the visible black soot damage that you see in traditional fires.