It takes less than 48 hours for mold to start growing after water infiltration. The good news is that we're available 24 hours a day, 365 days a year. Call Brad's Cleaners right away for emergency water damage restoration in Greenville and surrounding West Michigan areas. We typically try to be at your home or commercial building within an hour.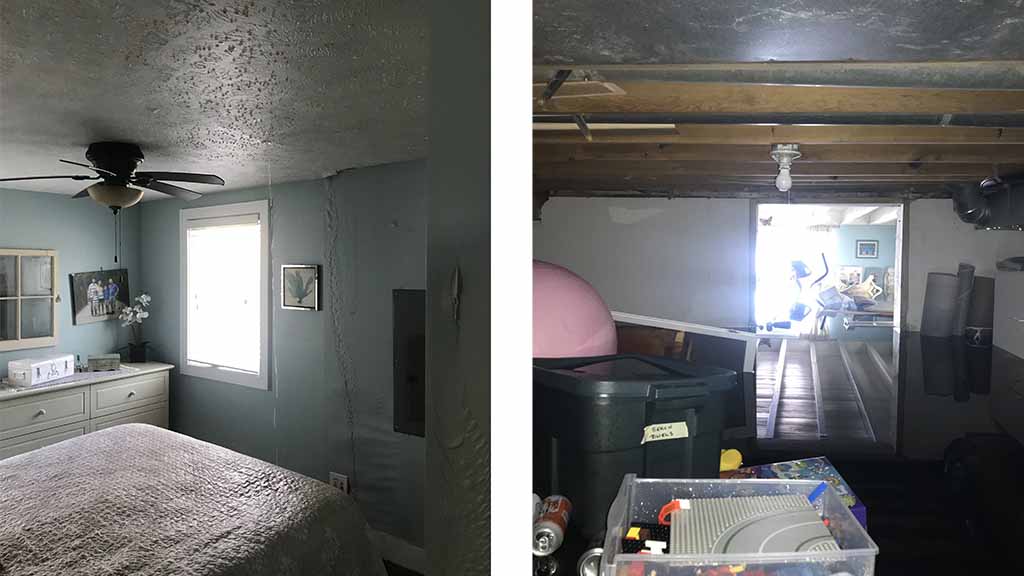 What You Need to Do Now
Time is so important. Call Brad's Cleaners immediately so we can get help on its way.Below are items that are safe to start on, before we get there.For your safety and the safety of your home, please pay close attention to the list of "What Not to Do"
What you can do:
Remove as much standing water as possible.
Elevate or remove any furniture. Use bare wood blocks or folded aluminum foil to prevent rust or stain transfer.
Elevate any draperies or furniture with skirts that are in contact with water to prevent wicking or additional water damage.
Move keepsakes, photos, pictures, and any important items to a safe, dry location.
What Not to Do:
Never enter a room with standing water until electricity has been turned off!
Never enter a damaged area without proper personal protective items.
Never place water damaged or contaminated items on dry undamaged items as they may become damaged from the moisture and/or contaminates.
Never remove tacked-down carpet without professional help.
Never use electrical appliances while on wet carpet or flooring.
Do not disturb visible mold.
What You Can Expect
A lead technician will be on-site to walk you through the process and begin the water mitigation. Our technicians come equipped to extract water from your carpet or hard surface flooring and get things drying out!
We have over 300 pieces of specialty drying equipment to extract, dry, clean, deodorize, and treat your flooring with an antimicrobial solution. Our goal is to stabilize your environment quickly with as little disruption as possible.
Benefits of Hiring Brad's Cleaners
There is a lot more to our water damage restoration service than simply vacuuming up the water and letting the area dry. Addressing mold and mildew.
in its early stages can help prevent further damage and reduce replacement costs. It is important to take all the necessary steps to prevent future problems with
Fast 24-Hour Response to Water Damage
The longer moisture is allowed to linger, the more damage and cost involved in repairs. We have a 24-hour emergency service and are just a phone call away. Whether it is during the day or in the middle of the night, we respond quickly with the knowledge and expertise to do the job right.
Complete Water and Moisture Removal
Even though an area may look dry, it might not be. Water travels behind walls and ceilings. It will follow the path of least resistance. Water and moisture get trapped inside of walls and insulation. Moisture can hide between layers of flooring, in cracks and crevices, and all kinds of hiding spots.
It's critical that all areas of moisture are identified and dealt with. If not, mold and rot can develop causing severe problems and damage. We have the knowledge, training, equipment, and monitoring devices to ensure all moisture is removed and areas are completely dried.
State-of-the-Art Extraction and Drying Equipment
Shop vacs may be good for vacuuming up spills. But you need the correct equipment and knowledge to remove water from carpets and pads, wall cavities, and other interior spaces. Brad's Cleaners uses state-of-the-art extraction and drying equipment designed for
.
Brad's Cleaners is certified in restoration and cleaning. Our technicians have also been trained in restoration and the art of drying. Our technicians use moisture meters and specialty equipment to detect hidden moisture. They evaluate and create a drying plan to ensure your home or commercial building is completely dry.
Help With Your Insurance Claim
Brad's Cleaners has been performing restoration work for over 40 years. We are familiar with the process and understand what needs to be done and in what order. We have worked with local insurance companies and can help guide you through the process.
Brad's Cleaners uses Xactimate restoration software, which is what most insurance professionals use. This allows us to quickly and smoothly communicate information and pricing with the insurance companies ensuring the necessary work gets done as quickly as possible.
For your convenience, we also offer direct insurance billing.
Professional Results and Expertise
Professional water damage restoration is a complicated process. It requires a careful, scientific approach that includes frequent monitoring of relative humidity, temperature, and moisture of contents and structures.
Industrial fans and dehumidifiers need to be set up in a very specific pattern for the most efficient drying environment. Contents and structures should be evaluated to determine if they can be safely restored. Areas and contents may need to be treated and cleaned before using.
A certified restoration contractor will be able to evaluate these things and so much more to ensure that your premises is safely returned to its original state. Brad's Cleaners is just a phone call away.
Call Brad's Cleaners Today
Brad's Cleaners is a 24-hour water damage restoration specialists at (616) 754-0389 and we'll usually be at your door within an hour, day or night.
that's located in Greenville and serves West Michigan. Call our