We offer a full range of commercial cleaning and restoration services. Whether you need to
or , you can count on our over 40 years of experience. Our commercial cleaning and restoration technicians are uniformed, bonded, and insured.
Here's what you need to know about our commercial services.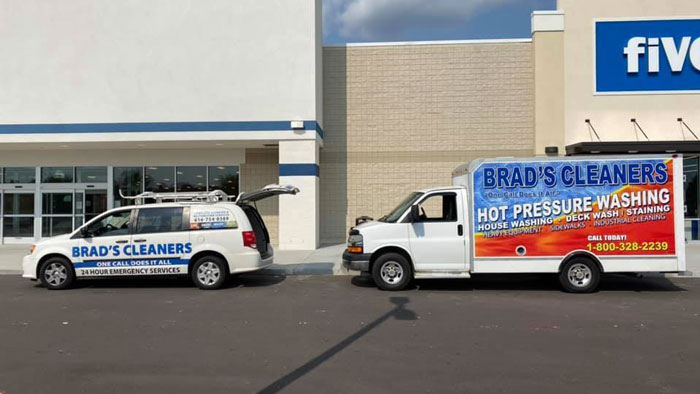 Emergency Restoration for Businesses
Brad's Cleaners is available 24/7 to take your call for emergency services. Any time of the day or night, please don't hesitate to call us if you have an emergency situation on your hands.
The sooner you act, the more we'll be able to mitigate the damage to your commercial property.
We offer the following emergency restoration services for businesses:
Depending on the extent of damage to your commercial property, we'll need to restore whatever can be salvaged. Under these circumstances, you can always trust us to handle the contents of your property with care and respect.
Commercial Cleaning Services
Preventive maintenance and commercial cleaning are important for maintaining the value of your property. Our commercial cleaning services will also help you save money in the long run by helping you avoid the premature replacement of carpet, siding, and other key property features.
We offer the following commercial cleaning services:
We'll do everything we can to minimize any disruption to your business. This may involve working around your office hours or cleaning when foot traffic is low. You can always trust our commercial cleaning specialists to be professional, polite, and courteous when working on your property.
Request an Estimate With Brad's Cleaners
Brad's Cleaners is a (616) 754-0389. We'd be more than happy to help you maintain the safety, cleanliness, and beauty of your commercial property.
that's located in Greenville and proud to serve West Michigan. To learn more about our commercial services, please call