Brad's Cleaners uses pressure washing to blast away dirt, mud, mildew, mold, and other contaminants. As a cleaning and restoration company, we're able to clean a wide range of exterior features from wooden decks to vinyl siding. This takes away the stress of having to rent pressure washing equipment on your own.
Hiring a professional company also takes away any risk of personal injury or property damage. Our pressure washing technicians are uniformed, bonded, and insured.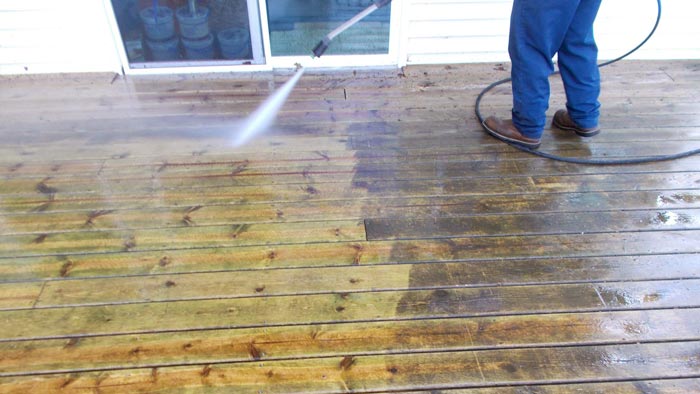 Why You Should Hire Brad's Cleaners
Pressure washing will help you maintain the curb appeal of your home and boost its value. But if you don't know
, you could end up doing more harm than good to both your house and yourself.
Benefits of Pressure Washing
Restore that "new wood" look (especially for deck pressure washing)
Eliminate the grayed effects of weathering
Remove chalky oxidation
Remove dirt, grime, and bugs
Improve curb appeal
Help prevent the need for repairs
Protect against injury and promote health
Our professional crew at Brad's Cleaners know the proper techniques to operate pressure washing equipment. That way, you'll be able to safely enjoy all the
.
Our experts will provide a faster clean than you would complete on your own, while avoiding any collateral damage to your property. We will also work consciously to minimize our environmental impact by making use of eco-friendly cleaning products as well as tricks to keep runoff out of nearby water sources.
Best of all, our attention to detail will ensure you come away completely satisfied with a thorough clean. Save yourself time, energy, and even money by hiring a professional pressure washing company like Brad's Cleaners.
Call Brad's Cleaners for Pressure Washing
Brad's Cleaners is a (616) 754-0389. You may also fill out our online contact form and someone from our team will reach out to you soon.
located in Greenville that serves surrounding West Michigan communities. To request an estimate for our pressure washing service, please call